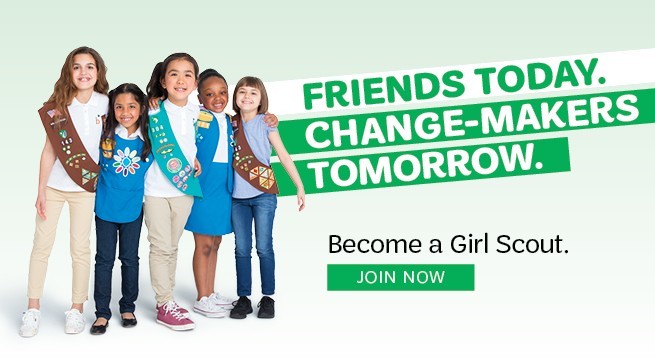 When you unleash your inner G.I.R.L., you can accomplish anything!
At Girl Scouts, the next opportunity to stand up, speak up, and take the lead is never far away. With us, you'll discover the G.I.R.L. (Go-getter, Innovator, Risk-Taker, Leader)™ in you, and watch her shine, again and again.
Will you find a sustainable solution to a problem in your community? Will you explore the great outdoors? Build a robot? Learn to code? Conduct an experiment?
With us, the possibilities are truly endless. Discover all you can be and everything you can accomplish when you have the right tools and a safe space to shine—and work together to change the world. 
So what are you waiting for?
 
Are you ready to lead like a Girl Scout?
At Girl Scouts we combine life skills, STEM, the outdoors, and entrepreneurship with civic engagement to deliver crucial, life-changing, girl-led programming. 
Our proven approach gives girls the opportunities to unleash their inner G.I.R.L. (Go-getter, Innovator, Risk-taker, Leader)™, prepare for a lifetime of leadership, and change the world. Whoa!
Need to know more so you can decide what's right for you? Check out all the different ways to take the lead at Girl Scouts. Or, see all the exciting possibilities Girl Scouts offers for girls of all ages and choose your adventure.
Do you need financial assistance with uniform components, and handbooks? Go to our Forms page under the section Fund Development Forms and fill out the appropriate Friendship Circle Request.